Trio SR9
It has been almost 10 years that the Trio SR9, founded by Paul Changarnier, Nicolas Cousin and Alexandre Esperet in Lyon, has been sharing its passion with audiences around the world. Having achieved their studies at the CNSMD de Lyon with Jean Geoffroy et Henri-Charles Caget, the three percussionists and friends decided to embark on this human and musical adventure.
The Trio was awarded the 1st Prize of the « Percussion Trio 2012 » organised by the International Percussion Competition Luxembourg (and also the public prize, and the « lalux » prize for the best interpretation). In 2012 the Trio won the European Music Ensemble Competition organised by FNAPEC, and received the fellowship of the Banque Populaire Foundation in 2016. The Trio has since then become recognised and widely acclaimed on the musical scene.
Strengthened by these experiences, the Trio SR9 initiated several new projects which all express an open attitude towards a wide range of aesthetics. Spanning various repertoires, the ensemble renews the interpretation of works from our musical heritage for three marimbas (Bach, Mendelssohn, Stravinsky, Ravel, etc.) and collaborates with composers (François Tashdjian, Florent Caron-Darras, Balint Karosi, Daniel Arango-Prada) on the creation of new pieces.
Beyond its musical eclecticism, the Trio SR9 is eager to explore new approaches of the performance and therefore collaborates with artists coming from different backgrounds. The three members of the trio have themselves expanded their experience of the stage by incorporating theatre and dance to their work.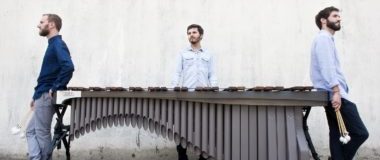 The shows produced by the trio reach all audiences and reflect an interdisciplinary research at the crossroads of artistic forms, genres and environments.
MACHINE(s) is the first show produced by the trio in 2015 with composers Pierre Jodlowski and Benoit Montambault. That same year, the trio tours with C O R P O R E L S and meets a young audience invited to discover a show built around multiple performing components and focusing on movement. In 2019, with the creation of JUKEBOX the Trio approaches theatre, dance and music alongside choreographer Simon Tanguy.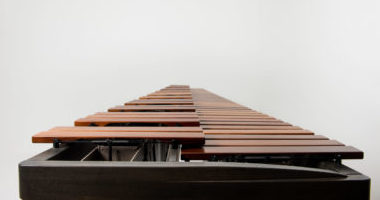 In parallel, the Trio SR9 leads recording projects and releases its first album "BACH au marimba" in October 2015 with label Naïve, based on a transcription work for three marimbas. In 2018, the Trio pursues this transcription work for the same instrumentation and releases its second album "Alors, on danse ?", also issued by Naïve.
The Trio SR9 is regularly invited to various radio programmes on France Culture, France Inter, FIP and France Musique (Carrefour de Lodéon, Génération Jeunes Interprètes, Génération France Musique). They were also the guests of Jean-François Zygel on the television show "La Zygel Académie" on France 2.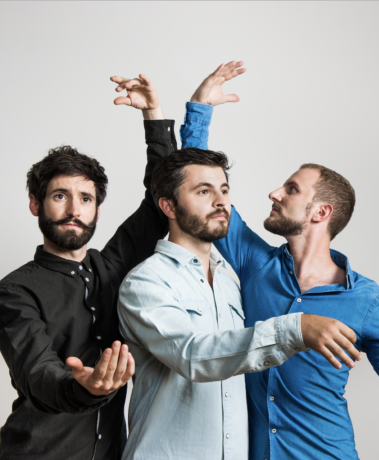 The Trio SR9 is frequent guest on French stages, invited to perform for festivals (Festival de la Chaise-Dieu, Festival Radio France in Montpellier, Festival International de Musique de Besançon, Flâneries Musicales in Reims, Festival "C'est pas classique" in Nice), and appears in prestigious halls such as the Opéra de Lyon, Maison de la Radio, Chapelle de la Trinité in Lyon…
The Trio SR9 regularly tours around the globe. Often invited in the USA (Institute of Contemporary Art / Boston, Lycée Français de New York), it also performs in Oceania (Canberra International Music Festival (AUS), The Piano Christchurch (NZ)), and Europe: Theaterhaus de Stuttgart (ALL), BOZAR de Bruxelles (BE), Bimhuis d'Amsterdam (NL), Muziekgebouw d'Eindhoven (NL), Drumworld Festival de Thorn (NL), etc.
Keen on sharing its experience, the Trio SR9 often holds masterclasses, namely at Boston Conservatory, Juilliard School, New York University, University of Canterbury in Christchurch, but also in French and European conservatories. In 2018, the Trio taught participants at the International Marimba and Percussion Festival in Pleven (Bulgaria).
The Trio SR9 is supported by the French Ministry of Culture (DRAC Auvergne-Rhône-Alpes), the Auvergne-Rhône Alpes Region, the City of Lyon, SPEDIDAM, ADAMI, Bureau Export, Banque Populaire Foundation and Institut Français. It has been member of the FEVIS network since 2020.
The Trio SR9 is sponsored by ADAMS percussion and RESTA-JAY percussions.
The Trio SR9 has been associate artists of the Théâtre Théo Argence in Saint Priest since 2018.
Paul

Changarnier

Born in 1987, Paul Changarnier is from Normandy. He studied at the conservatories of Saint Valéry en Caux and Rouen before continuing his percussion training at the CNSMD in Lyon between 2009 and 2014. He won the Cannes International Percussion Competition in 2010 and the Yamaha Music Europe Foundation in 2013.

He is a founding member of the TaCTuS Ensemble with whom he created VISAGES, Dédale(s), Les Varations Golderg, Timber. In 2019, he composed the music and was the musical director of Encore la vie (2019), a piece for 4 jugglers and 4 musicians with the Collectif Petit Travers and the Ensemble Tactus. In 2021, he co-write the show RESET with Quentin Dubois for 3 musicians and 1 acrobat.

He plays as musician with the SR9 Trio since 2010, alongside Nicolas Cousin and Alexandre Esperet. In 2012, the SR9 Trio won the Luxembourg International Percussion Competition, and obtained the First Prize, the Audience Prize and the Interpretation Prize. The SR9 Trio then created the shows Machine(s), Corporels and Jukebox (2019), and recorded two albums on the Naïve label: Bach au marimba and Alors, on danse?

In 2010, Paul Changarnier discovered contemporary dance, a new and inspiring language. This was followed by collaborations with choreographers Sandrine Maisonneuve (2011), Yuval Pick (No play hero, 2012) and Maud Le Pladec (Democracy, 2013). He co-founded the Collectif A/R in 2012, with dancers Thomas Demay and Julia Moncla, with whom he created the shows États des Lieux (2012), L'homme de la rue (2018) and PLACEMENT LIBRE (2021).

In 2017, he worked on his first choreographic research project, h o m e, with the A/R collective and continued in 2021 with the creation of a new piece, everything is temporary.

In 2021, he joins the jugglers Neta Oren and Eric Longequel on drums for their show, unplugged.

Paul Changarnier is also a founding member of Dog Food, a laboratory of sound experimentation, in duo with vibraphonist David Fourdrinoy but also solo for his own creations where he develops electronic music from analog synthesizers.

He travels throughout France, Europe and the four corners of the world (USA, Japan, Australia…) between concerts, shows and master classes.

Nicolas

Cousin

Nicolas Cousin a débuté le piano ainsi que la percussion au conservatoire d'Angers avec Fabrice Marandola, puis Thierry Le Cacheux et Jean Fessard. Il poursuit ses études avec François Desforges et Emmanuel Curt avant d'intégrer le CNSM de Lyond ans la classe de Jean Geofroy et Henri-Charles Caget où il a obtenu son master en2013.

Il a remporté avec le trio SR9, dont il est co-fondateur, le 1er prix, le prix de la pièce imposée et le prix du public au Concours International de Percussion du Luxembourg en2012. L'activité de l'ensemble l'a amené à jouer autant de concerts et spectacles en France qu'à l'étranger. Il se produit donc régulièrement dans le monde entier notamment aux USA, en Australie, en Nouvelle-Zélande, au Japon, en Chine, en Allemagne, en Angleterre, en Belgique, au Luxembourg, en Bulgarie, en Lettonie, en Pologne et aux Pays-Bas.Passionné d'orchestre, il obtient la bourse « Aïda » à l'Orchestre du Capitole de Toulouse et se produit régulièrement à l'Orchestre National de France, l'Orchestre National de Lyon, à l'Opéra de Lyon, à l'Orchestre National des pays de la Loire, à l'European Camerata, à l'Opéra de Saint Etienne et à l'Opéra de Limoges.

Il a participé à la tournée au Japon e l'Orchestre National de Lyon en juin 2016.Depuis 2011, il est interprète dans la compagnie Kahlua avec Matthieu Benigno et Alexandre Esperet dans le spectacle pluridisciplinaire "Black Box". Parallèlement à ces axes artistiques, sa curiosité pour la création et la musique dechambre l'amène à travailler avec la pianiste Hélène Desmoulin.Il collabore aussi avec d'autres instrumentistes lors du Festival de Colmar dirigé par Marc Coppey ou encore avec la violoniste Elissa Cassini pour la création d'une oeuvre du compositeur brésilien Armando Lobo.Il s'est produit avec la compagnie de danse O Vertigo (Drumming de Steve Reich) ainsique dans le flm Noces de Philippe Béziat en 2012.

En complément de son travail d'interprète, il s'intéresse à la pédagogie, et donne des master-classes dans les conservatoires français mais aussi à l'étranger comme au Boston Conservatory, à la Juillard School de New York, à la New York University ou encore à l'académie du Festival International de Marimbas & Percussions de Pleven en Bulgarie.Son souhait de transmission se traduit aussi par de nombreux ateliers artistiques avec des publics très variés, afin de faire découvrir l'univers musical des percussions de manière ludique. A ce titre, il a notamment créé en 2018 un spectacle pour les élèves du Lycée Français de New-York.

Alexandre

Esperet

Alexandre studied percussion successively at the conservatories of Avignon, Creteil, and in the CNSMD of Lyon under the guidance of Jean Geoffroy. He also learned piano, composition, jazz and rock music.

During his studies, he won several international competitions: 1st prize at the Marimba Competition in Cannes (2008); Audience Prize & Dr. Glatt Prize at the Geneva International Competition (2009); 1st Prize, Audience Prize and Press Prize at Tromp Percussion Competition in Eindhoven (2012).

Alexandre is an eclectic percussionist, eager to collaborate with other artistic forms. Therefore he has worked with many choreographers and stage directors. Between 2011 and 2014, he performed more than a hundred times in Europe, USA and Japan the dance and music-theatre show Traverse with the Arcosm Cie.

In 2010 he created the music-theatre company Kahlua with his friend Matthieu Benigno. Together, they wrote a show for children called Black Box, and a piece entitled Ceci n'est pas une balle published by Alfonce Productions Editions, and which is now being performed in more than 20 different countries.

Since 2016, he is member of the group Percussions de Strasbourg with whom he creates numerous new pieces for percussion from composers Thierry De Mey, Alexander Schubert, Wen Chi Tsai, Karl Naegelen, Stéphane Magnin, Gabriel Sivak… and play old repertoire classics, including the famous Pléiades & Persephassa written by Iannis Xénakis for the ensemble.

Moreover, Alexandre performs as a soloist worldwide (USA, Canada, Brazil, Japan, Russia, UK, The Netherlands, Belgium, Switzerland, Italy, Slovakia, Lithuania, Georgia) for recitals or with the following ensembles: Ensemble Contemporain, SO Percussion, Shlagwerk Den Haag, Ensemble Contrechamps, Asko Schoënberg Ensemble, Britten Sinfonia.
He premiered pieces from composers such as Nico Muhly, Karl Naegelen, Maxim Shalygin, Alin Gherman or Benoit Montambault.

He had the chance to share his experience during master classes and clinics at the Boston Conservatory, Mc Gill University of Montréal, EMESP in Sao Paulo, Sensoku Gakuen in Kawasaki.
He was guest teacher in the Royal Conservatory of The Hague (The Netherlands) in 2015.
Since 2021 he is assistant teacher in the new percussion class of the CNSMD of Lyon.